Best Table Tennis Tables | 2016
Best Table Tennis Tables | 2016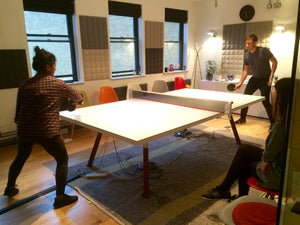 Finding the best table tennis table to fit your budget and preferences can be a challenging process and you're probably wondering "What ping pong table is the best for my home or office?" Well, you've come to the right place as eTableTennis.com provides a glimpse of which table tennis tables are the hottest on the market right now.  We've been crunching the data, scouring the internet, and testing the products so we can help you make an informed decision when it's time to purchase your next ping pong table.
 To help you find the best table tennis table, we partnered with our friends at pingongguru.com to develop a formula to help crunch the data.  We based our criteria on five (5) key points including: price, durability, 3,4,5. So without further do, eTableTennis.com introduces the top 5 best table tennis tables for 2016 (we will link each post back to our site):
Joola Insider 
This attractive $400 table is quite sturdy and very easy to assemble.  Great for all types of table tennis players, from beginner to advanced.  
Killerspin MyT-0 
This particular table is great for outdoor play and is very easy to assemble, just like it's brother, the MyT-7, which is made for indoor play. Although one of the more expensive tables, it's incredibly sturdy and is known for remaining in good condition for a very long time. A great choice, especially for those of you who plan on keeping your table tennis table outside year round. 
Butterfly Personal Rollaway 
This is a personal favorite of ours due to the price, design, and reliability. This fantastic and reliable top seller is great for homes, offices, college campuses and is very affordable at under $500.   
Cornilleau Sport 500
This sleek, European-style table is considered one of the higher-end table tennis tables on the market and is designed for those serious players who seek out the most coveted table tennis equipment available. The indoor version has a price tag of $1000 and the outdoor version can be had for about $1400.
Stiga Insta Play 
This table is great for casual play and is great for families. It's very easy to assemble and has a terrific value at under $600. Simply a great looking table that meshes well with various types of decors. 
Now that we at eTableTennis.com have provided you with the top 5 best-selling table tennis tables on the market right now, you can now make an informed decision about which table is best for you and your situation.  Let the fun and games begin!