Game Table of the Week: The Berner 13 in 1 Combination Game Table
Game Table of the Week: The Berner 13 in 1 Combination Game Table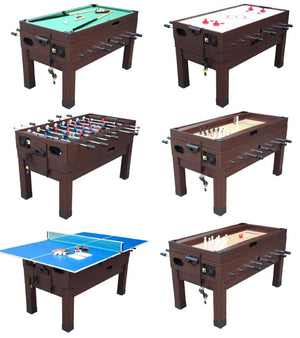 The 13 in 1 Combination Game Table by Berner is a multi game table that can seemingly do it all
When it comes to purchasing a game table, many of us have a difficult time deciding which kind of game table should be bought. Ping pong, foosball, pool, and air hockey are of some of the most well-known table games in history and trying to decide which table to buy can often become an arduous and time-consuming task. However, if you love many different table games and would love to have them all available in one game table, the 13 in 1 Combination Game Table by Berner may be exactly what you're looking for.
The 13 in 1 Combination Game Table by Berner will bring a number of great games to your home, office, or game room. Available in black, cherry and espresso, the 13 in 1 Combination Game Table makes it possible to play the following table games:
Air Hockey (Full electric motor powered)
Table Tennis
Foosball
Pool table
Bowling
Shuffleboard
Chess
Checkers
Backgammon
Yahtzee
Dominoes
Poker
Pinochle
In additional to making a number of legendary table games possible all in one table, the 13 in 1 Combination Game Table by Berner boosts many great features including a motor-powered air hockey playing top, leg levelers to ensure an even playing surface, a high quality wooden frame, and accessory items for all 13 games. Measuring at 56"L x 29"W x 35"H, the 13 in 1 Combination Game Table can easily fit in most homes, offices, and game rooms, and is easy to store. 
At eTableTennis.com, we strive to bring our customers the best game tables available, and hopefully, we have helped those seeking a quality combination table to enjoy for many years to come.  If you happened to be interested in the Berner 13 in 1 Combination Game Table, eTableTennis.com can definitely help! In addition to carrying the 13 in 1 Combination Game Table, we also carry a great selection of ping pong tables, multi game tables, luxury tables, shuffleboard tables, foosball tables, and more. Please view  our entire collection of Multi-Purpose Tables: All Multi Game Tables. 
With top notch customer service being extremely important to us, if you have any questions regarding any of our products, or would simply like to check the availability of an item, please feel free to contact an eTableTennis.com team member via email, live chat, or by phone.