Ping Pong Balls: The Various Ways in Which Ping Pong Balls Are Used
Ping Pong Balls: The Various Ways in Which Ping Pong Balls Are Used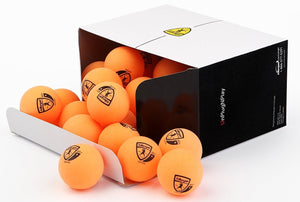 Despite their small size, ping pong balls are an essential component to the game of table tennis and are predominately associated with the game that we at eTableTennis.com love to play. Ping pong balls are generally made of plastic and are graded as either 1-star, 2-star, or 3-star balls, with 1-star being the lowest quality ping pong balls and 3-star being the highest quality ping pong balls. Although table tennis balls are mostly used to play ping pong, table tennis balls can be used in a number of different ways thus making ping pong balls one of the most versatile game room accessories. 
While there are dozens of ways in which ping pong balls have been utilized over the years, our team here at eTableTennis.com thought we would narrow the list down to five ways in which ping pong balls are often used. After thinking about the various uses, the following five are the ways in which table tennis balls are most often used:
Ping Pong Balls Can Be Used to Play the Great Game of Table Tennis
As the most obvious way in which ping pong balls are used, table tennis is a great game that requires a ping pong ball. The game of table tennis cannot be played with out a ping pong ball to volley back and forth between opposing players, thus making the ping pong ball an essential part of the game that millions around the world have enjoyed for years.  
Beer Pong is Another Fun Game in Which Ping Pong Balls are Often Utilized
Beer pong is another game enjoyed by many that requires a ping pong ball. Beer pong is a popular game that many young adults play and involves lining up a number of cups, filled with either beer or a beverage of your choosing, while attempting to throw the ping pong ball into the cup of the opposing team. If a member of one team gets the ping pong ball into a cup of the opposing team, the opposing team is then required to drink the beverage in that particular cup. Ultimately, the team who gets the most ping pong balls into the cups of the opposing team wins the game.    
Many Golfers Use Ping Pong Balls to Practice Their Golf Swing
Many individuals who play golf often use table tennis balls to practice their golf stroke, or to play a light game of golf with a friend or acquaintance. Ping pong balls are ideal for this particular activity because they resemble a traditional golf ball while being very lightweight and much less expensive. 
Another way in which table tennis balls are used are as ornaments.  Ornaments are generally small items that are placed upon a larger item to enhance the larger item's attractiveness. Many artistic individuals enjoy utilizing ping pong balls for decorating a home, a Christmas tree, or as part of a costume. 
Ping Pong Balls Are Often Used as Light Fixtures
Another cool way in which ping pong balls are used are as light fixtures. Due to the round, small, and lightweight characteristics of table tennis balls, they are very useful when creating a unique light fixture for a home, office, or commercial establishment. Often times, individuals see a light fixture and assume it's made of traditional light bulbs, but when they take a closer look, they will likely notice that the light fixture is actually made of ping pong balls.  
As you can see, table tennis balls can be used in many different ways with additional ways constantly being developed. If you are interested in purchasing some ping pong balls, eTableTennis.com has you covered! At eTableTennis.com, in addition to carrying a wide selection of quality table tennis tables and ping pong paddles, we also carry a great selection of ping pong balls. Please view our collections: Table Tennis Balls, Table Tennis Tables, Ping Pong Paddles. 
Since we strive to provide our customers with the best table tennis buying experience possible, if you have any questions about our table tennis products, or if you would like to check the availability of a particular item, please feel free to contact an eTableTennis.com team member via our live-chat feature or by phone.