Ping Pong: Why Ping Pong is Great for Weight Loss
Ping Pong: Why Ping Pong is Great for Weight Loss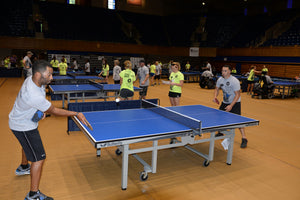 Playing table tennis can burn many calories in a short period of time
Ping pong is truly great for weight loss because of the large amount of calories players can burn while playing table tennis competitively or while practicing. At eTableTennis.com, we've had inquiries from potential customers regarding the game of table tennis and some of its tremendous benefits. Although most people are well aware that ping pong is a fun game that improves hand/eye coordination, stimulates the brain, and can be used as a wonderful social outlet, many are surprised to learn that table tennis also has the added benefit of weight loss.   
Ping Pong Helps Burn Many Calories
Weight loss is becoming more and more important in our on-the-go, fast-paced society. We all have busy lives that are consumed by activities such as work, school, and family, so finding time to get in a great workout that burns many calories in a relatively short period of time can sometimes be difficult. Aside from many of the well-known benefits that table tennis offers, which were mentioned above, ping pong also is great for weight loss. The weight loss benefits attributed to ping pong are primarily due to the increased heart rate that occurs while playing table tennis.  Since table tennis requires that players continuously stay mentally and physically alert, and must constantly position themselves to return serves, this essentially results in a great form of High-intensity Interval Training (HIIT) cardio; which is great for increasing the heart rate, thus burning calories.
According to the popular health and fitness app MyFitnessPal.com, ping pong burns many calories. For example, an individual weighing between 125 to 175 pounds will burn roughly 113 to 159 calories in only a 30 minute period while playing table tennis. For those of you who dislike the conventional ways of burning calories, such as walking, running, or biking, ping pong gives you a fun, exciting alternative you can partake in with family, friends, or coworkers.
Hopefully, eTableTennis.com has given you great insight as to why ping pong is a great way to burn calories and ultimately lose weight.  Now that you're aware that table tennis helps burn calories, if you're interested in purchasing a table tennis product to get started on your weight loss journey, eTableTennis.com has you covered! Regardless of whether you're interested in purchasing a table tennis table for your home or office, or simply need a new set of table tennis paddles, eTableTennis.com has a great selection of items for you to choose from. Please view our collections: Ping Pong Tables, Ping Pong Paddles, Table Tennis Balls, and Table Tennis Nets.
eTableTennis.com is always glad to be of assistance, so if you have any questions regarding any of our table tennis products, or would simply like to check the availability of an item, don't hesitate to get in touch with an eTableTennis.com team member via live-chat or by phone.