Startup Companies and the Emergence of Ping Pong
Startup Companies and the Emergence of Ping Pong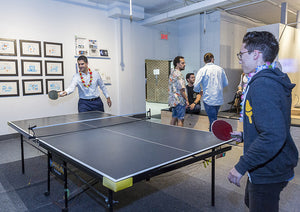 Ping pong has become a major part of startup culture.
The game of Ping Pong has a way of bringing people together.  It provides a competitive outlet, and is often an excellent gathering place amongst friends, families, and co-workers.  The table tennis table is especially linked with Silicon Valley and the startup community.  Ping pong offers those working at startup companies a break from the daily routine and stressful environment, and helps to foster a sense of community.  For many startups, a ping pong table is a must have, and viewed as a sign of a company that bucks traditional thinking and allows for a creative and collaborative environment where free thought is highly valued.       
The ping pong table was not the original go-to game table during the first dot-com boom in the late 1990's.  That honor goes to the foosball table which was seen as the go-to game table for many startup companies looking to build a sense of community at their place of business. However, the shift began as companies emerged from the tough conditions of the dot-com bubble.  Companies seeking a cheaper and more practical alternative to a foosball table found it in Table Tennis Tables.   According to Startup Daily, " It (Ping Pong Tables) may be fun and used as recruitment tool for startups nowadays, but the real (and original) reason behind why technology companies and ping pong make the perfect couple is because ping pong is actually one of the very few 'active' activities that anyone no matter if they are 16 or 60 can participate in that promotes strategic thinking."
Today's table tennis tables are not your grand daddy's tables.  Instead, they come in all sorts of colors, designs, and allow for easy storage.  One of the reasons corporations have shifted from foosball tables to ping pong tables is for the ability to use the ping pong table for meetings as well as the easy storage capabilities. Some tables like the You & Me Ping Pong Table from RS Barcelona offers not only a high quality ping pong table, but can also present as a premium conference table sure to attract many compliments. Other rollaway table tennis tables, like the stylish Active 19 Home Rollaway Table Tennis Table by Butterfly, can be easily folded in half and stored out of the way of the day-to-day activities if need be.
If you are looking for a table tennis table for your office, we at eTableTennis.com offer a wide selection and competitive pricing.  We also have several different delivery options to help get your ping pong table direct to your office.  Please view our collection: Table Tennis Tables.
As always, our team at eTableTennis.com prides itself on providing outstanding customer service, so if you have any questions, or would simply like to check the availability of an item, please feel free to contact us via live-chat or by phone.