Table Tennis: A Brief History
Table Tennis: A Brief History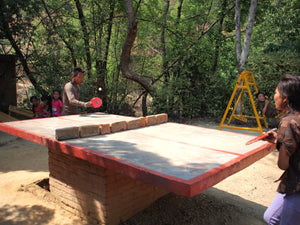 Many around the world love table tennis and its competitive nature
Here at eTableTennis.com we take pride in delivering top quality table tennis tables and accessories as well as outstanding customer service.  Our team is committed to growing the game of table tennis and delivering high quality informative articles that help you improve your ping pong skills and/or teach you greater insights about the game that is loved worldwide.   
The game of table tennis, also known as ping pong, is a sport that is typically played between two individuals who vigorously and strategically hit a lightweight ping pong ball back and forth for as long as possible until one player falters. Table tennis, which began in Victorian England (1837-1901), has become a truly global game.  Ping pong was originally played among the upper-class as an after dinner game in Victorian England and has transformed into something great that brings people together in a fun and competitive way. 
Even though different cultures around the globe may have different languages and customs, the game of table tennis has always had a way of unifying people. Table tennis has become so beloved throughout the world that it became an official Olympic event during the 1988 summer Olympic games in Seoul, Korea and has been an Olympic event ever since.
Although the roots of ping pong trace directly from the upper class of Victorian England, it has become a universal game.   Some of the benefits to table tennis are that it improves hand/eye coordination, can be used as a quality cardio workout, and does not require a large amount of space to play.  Because of these great benefits of ping pong, many all over the world play regularly, or even daily, and have a lot of fun in the process.
Our team here at eTableTennis.com is committed to doing the best we can to bring you the best table tennis products and equipment possible so that you can enjoy all of the benefits that the game of table tennis can bring.  Please view our wide selection of table tennis products: Ping Pong Tables, Ping Pong Paddles, Table Tennis Balls, Table Tennis Nets.
If you have any questions, or simply want to get in touch, feel free to contact us via live chat or by phone.