Table Tennis Accessories That Table Tennis Players Should Have
Table Tennis Accessories That Table Tennis Players Should Have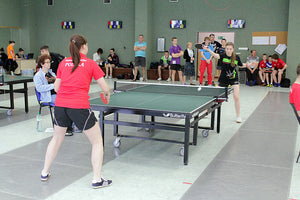 When it comes to the great game of table tennis, there's certainly more to the sport than just tables and paddles.  Here at eTableTennis.com, we have you covered when it comes to providing quality table tennis equipment and products, and we are committed to keeping you informed of what table tennis accessories are available. 
In addition to tables and paddles, there are many accessories available that you may be interested in, including:
Table Tennis Balls

Table Tennis Storage Items

Cleaning solution for your Table Tennis Table and Table Tennis Paddles

Table Tennis Shoes

Table Tennis Nets
Table Tennis Balls
While these are essential to the game of table tennis, there are different types of ping pong balls available.  Ping pong balls vary in quality and range from 1-star ping pong balls all the way up to 4-star ping pong balls; with 1-star ping pong balls being the lowest quality and 4-star ping pong balls being the highest quality. Table tennis balls also come in different colors, so for those of you who may prefer something different than the traditional white ping pong ball, there are multiple options.
Table Tennis Storage items
There are stylish looking storage cases and bags that make it easy to transport your table tennis paddles and accessories.  These table tennis storage items come in a variety of sizes, colors, and materials which not only puts table tennis storage items to practical use, but can also be used as a great looking fashion accessory. 
Cleaning Solution for Table Tennis Tables and Table Tennis Paddles
Maintaining your equipment is often an overlooked component to maximizing your game.  Cleaning solution helps to maintain various playing surfaces on both tennis tables and ping pong paddles by removing dirt that may hinder your performance.
Table Tennis Shoes
 These are shoes specifically made for playing table tennis. Table tennis shoes provide just the right kind of support needed when making sharp cuts to return a serve or jump to save a ping pong ball from falling off the ping pong table. Definitely a great item to have if you're serious about performing your best.
Table Tennis Nets
These are the nets that separate one side of the table tennis table from the other. While the vast majority of table tennis tables come with a table tennis net, those nets sometimes become worn or may not fit the décor of your home, office, or recreational center. Table tennis nets generally come in a various of colors.
Now that we've covered the different kinds of table tennis accessories you may be interested in, we hope you find something that will enhance your overall table tennis experience. In addition to table tennis tables and table tennis paddles, we also carry a wide selection of ping pong accessories. Please view our collections: Ping Pong Accessories, Table Tennis Tables, Table Tennis Paddles.  
As always, if you have any questions about a table tennis product, feel free to get in touch with the eTableTennis.com team via live chat or by phone.