Table Tennis: How Virtual Reality Will Change the Game of Table Tennis
Table Tennis: How Virtual Reality Will Change the Game of Table Tennis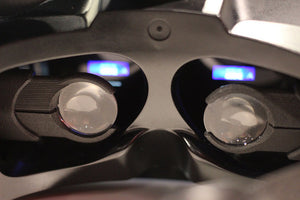 Virtual reality technology is the future of table tennis
Virtual reality technology will change the game of table tennis because of its ability to create high quality images, sensations, and sounds that truly enhance the table tennis experience.  At eTableTennis.com, since many of our customers are also ping pong enthusiasts, we feel it's important to keep them aware of what is going on in the table tennis world.  With the International Table Tennis Federation wanting to increase the popularity of ping pong around the world, virtual reality has been at the top of the list of technologies to implement with the goal of improving the table tennis fan experience, and enticing more people to fall in love with the game of table tennis.  Virtually reality is a technology that enhances one's overall experience by generating realistic images, sounds, and sensations in a particular setting or environment.  This phenomenal technology is commonly associated with video games, but has made its way into other areas including sports, education, engineering, and military training. 
The game of table tennis is very popular in Asia, but the International Table Tennis Federation seeks to expand that popularity throughout the world and believes that virtual reality technology will be crucial in this endeavor.  Our team here at eTableTennis.com believes that virtual reality could be the technology that takes the game of ping pong to the next level, and here are the reasons why:
Virtual Reality Greatly Enhances the Table Tennis Fan Experience
In 2016 during the ITTF World Tour Grand Finals in Doha, Qatar, virtual reality was given a trial run and had very good results. Virtual reality can greatly enhance the table tennis fan experience because it allows fans to experience the feeling of being at a live table tennis event, which was not possible until now. Want to feel like you are sitting up close during the World Tour Grand Finals? Virtual reality technology can make it happen!  By providing a more up-close and personal experience, the game of table tennis will likely attract more and more fans who truly enjoy the experience.
Table Tennis Training is Enhanced With Virtual Reality
With NFL quarterbacks now using virtual reality during football training, ping pong players will also be able to get in on the action. Virtual reality technology will allow table tennis players to experience very realistic table tennis simulations that will allow them to train in ways that will drastically improve their game.  Virtual reality would make it possible to simulate playing ping pong at various speeds, or returning a serve with backspin or topspin in real-time even during solo practice.
With virtual reality technology on the verge of becoming a major part of table tennis community,  eTableTennis.com wants to do our best to keep our customers informed of the current ping pong trends.  At eTableTennis.com, we do our best to provide great table tennis information in addition to having a wide selection of table tennis products for you to choose from.  We carry everything from ping pong tables and ping pong paddles, to table tennis balls and table tennis nets. Please view our collections: Ping Pong Tables, Table Tennis Paddles, Ping Pong Balls, and Table Tennis Nets.
eTableTennis.com strives to provide our customers with the best ping pong buying experience possible so if you have any questions regarding any of our products, or would like to check the availability of an item, feel free to contact an eTableTennis.com team members via live-chat or by phone.