Table Tennis: Why China is Arguably the World Leader in Table Tennis
Table Tennis: Why China is Arguably the World Leader in Table Tennis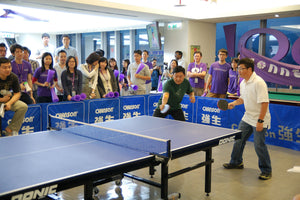 Table tennis has been incredibly popular in China for many decades
When it comes to the great game of table tennis, China is often considered the world leader and most dominate country because of numerous factors which have produced a very large pool of high-level table tennis talent. As table tennis enthusiasts, our team here at eTableTennis.com always has debates regarding who is the World's leader in table tennis.  While there are other countries who have done exceptionally well and have made many of their citizens proud on the world scene, such as Germany, Korea, Sweden, and the United States, our team here at eTableTennis.com believes that China is the world leader in table tennis. 
According to Wikipedia, since 1959, Chinese players have won the men's World Table Tennis Championships approximately 60% of the time. Moreover, Chinese players have won the women's World Table Tennis Championships all but three years since 1971. Some believe that such records are primarily due to genetics, but while genetics may play a role, there are many other reasons why China has dominated the game of ping pong. The following are the five (5) reasons why our team here at eTableTennis.com believes China dominates in table tennis:
Extreme Passion for the Game of Ping Pong
Table tennis is one of the most popular sport in China and this has been the case for many many decades. Although a few other sports, such as basketball and soccer, have gained popularity, the game of ping pong is such a major part of Chinese history and culture that table tennis will always be held in the highest esteem. The level of passion that many Chinese people have for the game of table tennis often goes unmatched. 
Exposure to Table Tennis at an Early Age
In China, most children are introduced to the game of ping pong at a very young age. Since they are exposed to table tennis at such an early age, this results in them having far more years of experience than their counterparts from other countries who may not have been introduced to table tennis until the age the 10.
China has the Largest Pool of Potential Table Tennis Talent in the World
With China being the World's most populated country, this results in an increased probability of developing a lot of top-tier table tennis talent. With a population of over 1.3 billion, there's going to be a great chance that a large number of phenomenal ping pong players will come out of such a large population.
Ultra High Selectivity When Selecting Ping Pong Players for its National Team
While every country is highly selective when selecting its players for the table tennis National Team, China takes it to the extreme. With such a huge pool of table tennis talent to choose from, those making the selections for the Chinese National Table Tennis Team do not hesitate to replace a ping pong player who isn't performing at an ultra high level. As you can imagine, competition to make the Table Tennis National Team is incredibly fierce and requires that one always perform their absolute best.
Extremely Rigorous Table Tennis Training
Because ping pong is arguably the most popular game in China, training regimens are taken very seriously. Even when young, up and coming ping pong talent in China is given pro-level workouts and are asked to push their limits as much as possible to perfect their skills. Coaches are constantly critiquing their ping pong players looking for ways to improve, even if only slight improvement, and with China being a world leader in technology, various technologies are utilized to track the efficiency and effectiveness of a table tennis training program.  
Hopefully, our team has done a good job of explaining why eTableTennis.com believes that China has been so dominant in table tennis.  If you are looking to become a dominant ping pong players as well, and are looking for the right table tennis equipment to put you on the path of success, eTableTennis.com has you covered!  eTableTennis.com has an excellent selection of table tennis products  including table tennis tables, ping pong paddles, table tennis nets, and table tennis balls. Please view our collections: Table Tennis Tables, Table Tennis Paddles, Ping Pong Balls, and Table Tennis Nets.
At eTableTennis.com, since we we try to provide our visitors with the best table tennis buying experience possible, feel free to contact us if you have any questions regarding any of our table tennis equipment, or would simply like to check the availability of an item via live-chat or by phone.