Table Tennis: Why Table Tennis is a Great Game for Children
Table Tennis: Why Table Tennis is a Great Game for Children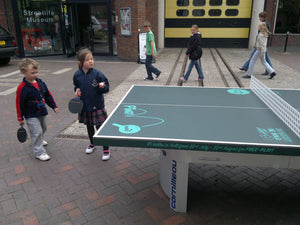 Ping pong has been enjoyed by millions of children around the world
Table tennis is a great game for children because of the numerous benefits it provides to their personal and physical development. Here at eTableTennis.com, we've been approached by a number of customers inquiring about the game of ping pong and what our opinion is regarding its benefits for children.  From our research and personal experience, we've reached the conclusion that playing ping pong is a great game for children. Before getting started, it is important to note that one should always obtain medical clearance from their physician before engaging in physical activities.      
There are many benefits that table tennis has on a child's personal and physical development, which includes:
Improved hand/eye coordination
Ping pong greatly improves a child's hand/eye coordination because of the need to keep your eye on the table tennis ball while looking to return the serve with your ping pong paddle. Due to the game of table tennis being so fast-paced, with more and more exposure to the game of table tennis, one's hand/eye coordination improves, which ultimately results in a child with great coordination.
Improved foot speed and agility
Table tennis requires that players move their feet to gain excellent positioning behind the ping pong table so they can hit the ping pong ball coming towards them.  During a game of table tennis, the ping pong ball is usually hit in all areas of the table tennis table so players need to move their feet and position themselves at a certain angle to return the serve during competitive play. This will benefit the child greatly when playing other sports, such as baseball, soccer, basketball, and lacrosse.
Ping pong provides a social outlet
Ping pong is truly a great way for children to bond with their family and friends while having a lot of fun in the process. Whether a child is playing or watching table tennis, it provides the child a way to interact with those around and helps build new relationships or simply maintain great relationships that already exists.
Stimulates the brain 
Not only does playing table tennis require that one stays completely alert at all times, but it also involves a bit of strategy to obtain a good position to return the serve. In turn, this stimulates the brain and  helps keep the brain sharp, which will help immensely a child in other areas of life such as school, work, and sports.
Burns calories
Due to the amount of movement required to play ping pong, this results in many calories burned over a 30 minute or 1-hour time period. According to MyFitnessPal.com, a child weighing between 85 to 125 pounds can expect to burn roughly 154 to 227 calories per hour playing ping pong. This is truly great news, especially since many youths enjoy eating various types of candy and other sweets that are often very high in calories and lead to rapid weight gain.
Boosts the immune system
Since table tennis requires endurance and stamina to keep the volley going for as long as possible, this strengthens a child's immune system, which translates into a stronger, healthier child. While prolonged stress is never a good thing, brief periods of minor stress, like one may experience during a game of ping pong, is great for one's stamina, and ultimately, one's immune system.
Hopefully, eTableTennis.com has given you with a very good overview of why table tennis is such a great game for children to play.  At eTableTennis.com, we not only do our best at providing visitors with great information on the hottest table tennis topics and events, but we also have a great selection of table tennis products for you to choose from. Whether you are looking for a ping pong table for your home, rec-room, or office, or simply need a new ping pong net and post set, eTableTennis.com has a wide selection of items for you to choose from. Please view our collections: Table Tennis Tables, Ping Pong Paddles, Ping Pong Balls, and Table Tennis Nets.
As always, if you have any questions regarding any of our table tennis products, or would simply like to inquire about a particular item, feel free to get in touch with an eTableTennis.com team member via live-chat or by phone.