Table Tennis: Why You Should Join a Table Tennis Club
Table Tennis: Why You Should Join a Table Tennis Club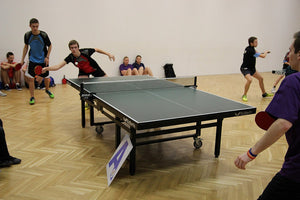 Joining a table tennis club can drastically improve one's life.     
Many individuals would benefit greatly from joining a table tennis club due to the numerous benefits that table tennis clubs can have on one's physical and mental health.   Here at eTableTennis.com, we not only strive to provide our customers with the best table tennis products possible, but we also strive to alert all people on how beneficial the game of ping pong is to one's overall life. With all the great table tennis clubs throughout the world, eTableTennis.com would like to take this opportunity to explain why joining a table tennis club might be perfect for you.      
As mentioned, joining a table tennis club can have many benefits on an individual's physical and mental health, some of which are the following:
Table Tennis Clubs Provide Access to Local and National Ping Pong Competitions
One of the great things about table tennis clubs is that they often provide their members with much access to great table tennis competition.  Whether one simply wants to play against some of the best ping pong talent locally, or wishes to take on the challenge of playing against the best ping pong players on a national level, table tennis clubs make it possible. Here is a great resource to help locate table tennis clubs in your area: Table Tennis Club Locator.
Table Tennis Clubs Provide a Great Social Outlet
Studies have shown that being social is great for one's physical and mental health, and table tennis clubs are a great place to be social and meet new people. Our team here at eTableTennis.com knows of many individuals who have met some of their closest friends through their table tennis club, and believe that being a table tennis club member has greatly enhanced their social lives.
Great Ping Pong Coaching and Mentors Can Often be Found at Table Tennis Clubs
Table tennis clubs are by far one of the best places to find a truly knowledgeable table tennis coach or mentor who is willing to help you maximize your ping pong skills. Usually, ping pong coaches and mentors at table tennis clubs are very experienced and may have even played against very high level table tennis competition nationally or even internationally, with some table tennis clubs even having former Olympic ping pong players as members.
Table Tennis Clubs Bring Together Those Who Truly Enjoy Ping Pong
Being around those who share a common interest is always a great thing and table tennis clubs do exactly that. At your normal, everyday recreational center, even if the center has ping pong tables for use, those at the recreational center may have other games they enjoy playing. However, at table tennis clubs, virtually all members have an interest in ping pong and this creates a better atmosphere to learn and develop one's ping pong skills in addition to meeting people who enjoy the game of table tennis.
Table Tennis Clubs Provide Members With a Sense of Community and Inclusiveness
Not only are table tennis clubs a great place to learn or improve upon the game of ping pong, but they often treat their members like family.  Since ping pong is more of a social type of sport, close bonds are created with other members which can blossom into long-lasting relationships.
Table Tennis Clubs Are a Great Resume Builder
Although this last benefit has very little to do with the game of ping pong, it's definitely a great benefit when it comes to building a resume. Showing that you are a table tennis club member conveys to schools and businesses that you are a well-rounded individual who likely has a lot to offer.
Hopefully, eTableTennis.com has done a thorough job of explaining why joining a table tennis club is very beneficial to one's physical and mental health, and why you should strongly consider joining one.   Now that you are aware of the affects a table tennis club can have on one's life, if you are interested in preparing for all the exciting competitive play that can be found at table tennis clubs and need the right table tennis equipment to begin practicing, eTableTennis.com has you covered!  We provide our customers with a wide variety of table tennis products including ping pong tables, table tennis paddles, table tennis blades, and ping pong accessories. Please view our collections: Table Tennis Tables, Table Tennis Paddles, Table Tennis Blades, and Ping Pong Accessories.
The eTableTennis.com team always strives to provide customers with the best, most pleasurable ping pong buying experience possible so if you have any questions regarding any of our table tennis products, or would like to check the availability of a certain product, feel free to get in touch via live-chat or by phone.